Greers Ferry Lake
Welcome to Van Buren County, Arkansas.
We are glad you have chosen to visit our website. Van Buren County borders Greers Ferry Lake and also contains part of the Ozark Mountains. We are an ideal tourist destination for safe and wholesome outdoor vacations for the individual, couple, group, or family. The landscape is rugged and mountainous to the north and rolling to the south. The county seat is the city of Clinton.
Greers Ferry Lake offers boating, fishing, camping, swimming, and hiking all near Sugarloaf Mountain. Our local communities provide golfing, bowling, shopping, libraries, community clubs, dining, music, art and a museum.
We are fortunate to host several schools ranging from the kindergarten age to high schools, family doctors, and a range of pediatricians, dentists, and emergency care.
As of the 2010 census, we had 17,295 friendly neighbors in Van Buren County and we have been growing ever since. So, come and join us here in the beauty of outdoor Arkansas.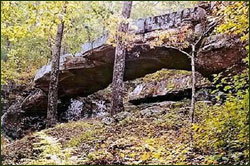 Natural Bridge of Arkansas
This site will soon be undergoing changes, please check back and visit us soon.